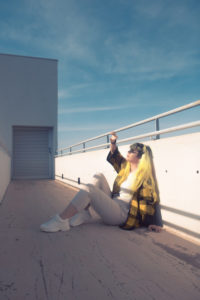 Plus-size women often shy away from experimenting with new trends and most women don't even enjoy shopping as it always seems challenging to find the right sizes. Ladies, if you seek to admire and flaunt your curves with confidence, you must find the right ensembles and plus-size fashion brands to deliver the goods that you seek!
We've picked out some incredible fashion labels that promote a body positive image with a luxurious line of plus-size clothing while being widely available. Listed below are our top picks that will definitely delight you with the variety they have to offer.
Here, take a look:
ModCloth
Whether you're looking for sensational plus size swimwear or rare vintage finds, ModCloth is the ultimate plus fashion destination to explore a gorgeous variety of trends and timeless statements.
This fashion-forward brand has definitely taken the lead in promoting a powerful body positive image with a strict stance against measuring curves and beauty with measurements and judgments. We strongly urge you to explore their stunning variety of maxi skirts, trench coats, cocktail dresses and some cozy cashmere staples for chic plus-size fall style statements.
Torrid
A brand that is dedicated to providing luxurious silhouettes and glamorous ensembles to plus size goddesses of all ages and sizes, Torrid definitely stands apart in the crowd of plus size brands with its bold edginess and abundance of variety. From trendy outwear staples and comfortable basics, to glamorous evening wear and chic streetwear ensemble. This glorious plus-size label allows plus-size women to enjoy flaunting their favorite curvy fashion trends with confidence.
Loft
Loft, a quirky and romantic fashion label, offers curvy goddesses to indulge in plus-size style with romantically sensual and playfully feminine ensembles. Whether you want to elevate your workwear style with sharply tailored blazers and jackets or seek to stun your coworkers with a glamorous little black dress for the office party. Loft is hands down the best plus-size brand to pick out trends that will ravish your sensuality and make you feel feminine and enchanting.
Forever21 Curve
Forever 21, everyone's go-to fashion brand to shop all the hottest trends of the season has launched its plus-size apparel line, an amazing initiative to promote body positive fashion. Forever21 Curve is the ultimate delight for any curvy goddess who likes to shop on a budget. From adorable dungarees and miniskirts, to sensual dresses, cocktail numbers, cozy cashmere, and voguish fall outfits. It allows you to explore a delightful abundance of insanely chic everyday outfits and festive looks.
21Squared is the community fashion app dedicated to curvy women who wear size 12+ or plus size clothing where the members inspire each other to look their best without worrying about how something might fit because you will be matched to other women who have similar body to you. You are encouraged to share your outfit to help other women in the community while earning commission on every sale your post generates.