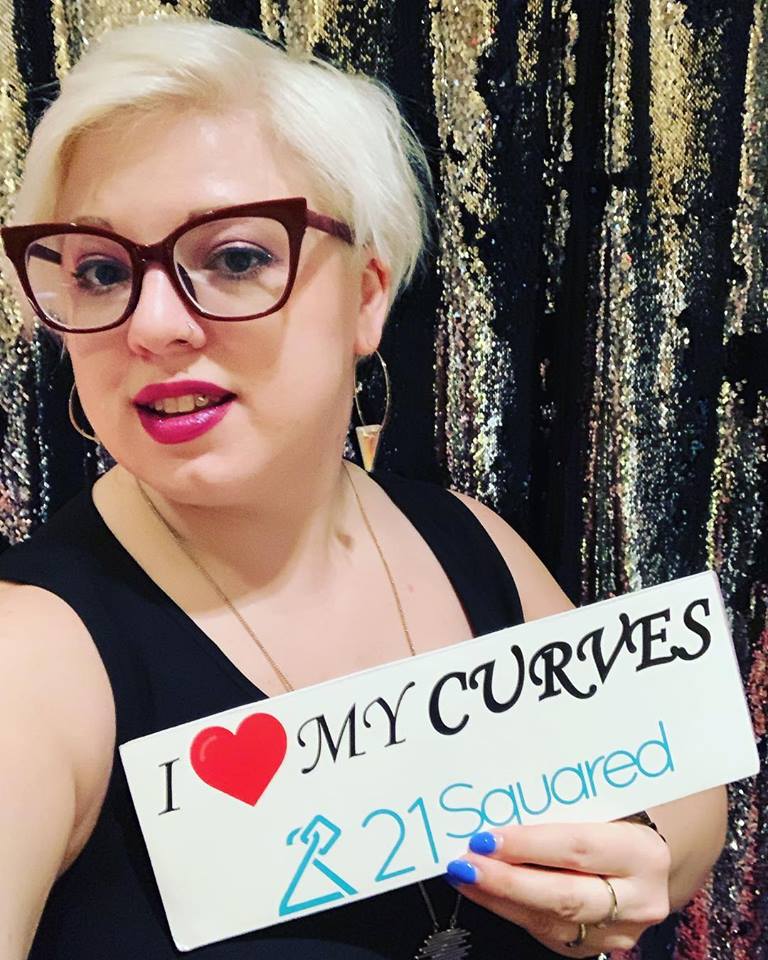 We are fortunate to attend New York Fashion Week and we sponsored a couple of events while we were there.  Thanks to the power of social media, we met this lovely fashionista
Kristi Siedow-Thompson.
Kristi is a fashionista, freelance fashion designer,  blogger and fashion influencer and she was able to help us with our event at the Curvy Confidence Bar.  Thank You, Kristi!
Here are some notes from our interview with Kristi:
CB: What do you do? (job/career/hobbies)  And can you please include any links you would like me to include
KST:
I am a freelance fashion designer in New York City. I also love musical theater, singing, and dancing, but fashion takes up most of my time these days. My instagram is @ksiedowthompson, fb is @kristi.siedowthompson, blog is 
www.kristiinthecity.com
, website is 
www.kristisiedowthompson.com
CB: Who / what is your fashion inspiration?   What would you say is your style?
KST: I am a huge fan of Chromat and the things owner Becca McCharan-Tran does with inclusivity and social justice. I am also inspired by Her Universe, who makes women's wear based on geek culture. My style is a good mix of streetwear and structure with bold colors and patterns mixed in.
CB: How do you feel about online shopping?
KST: I don't love shopping online unless it's something I have tried on before and know will fit.
CB: Do you think using our app can help you shop online ?
KST: Yes, I think using the app is a great way to help find things that will fit and flatter me without having to try them on personally.
KST: I really love how easy it is to see so many cute styles on so many different types of bodies. I love how it matches me by measurements to other people with similar body shapes so I can see how close they are to me, and shop for things based on this.
CB:  Is there anything else you would suggest for the app?
KST: I feel like I see a lot of the same people – as your user base increases I am sure it will get better.
CB:   Where do you typically shop online and in person?
KST: I shop at Lane Bryant, New York and Company, Hot Topic, and a variety of boutiques and vintage locations.
 CB:  Which events did you go to at NYFW?
KST: I went to the Chromat show and the Curvy Confidence Bar.
CB:  What trends did you see a lot of at NYFW?
KST: Chromat's show focused on sustainability, which is a growing trend that I hope is not a fad. We need to be more mindful of our planet and how much waste the fashion industry creates. One of the things I love about Chromat is that the stories they tell on the runway are things they actively are fighting for (such as inclusion) are not marketing gimmicks: they not only talk the talk, but they walk the walk. Chromat has always made their swimwear from fabric made out of regenerated nylon spun from fishing nets recovered from the world's oceans.
Another trend we are seeing more of overall is including of curvier models, but it is a slow process. Many brands included a few curvy models one season, but less or none the next. Same with ethical diversity. It's a trend that will slowly break through, but we have to let it and welcome it in order to make progress.
CB: We are so grateful to you, Kristi and to everyone we met at NYFW in February. 
21Squared is the community fashion app dedicated to curvy women who wear size 12+ or plus size clothing where the members inspire each other to look their best without worrying about how something might fit because you will be matched to other women who have similar body to you. You are encouraged to share your outfit to help other women in the community while earning commission on every sale your post generates.
Download our app and join our community!