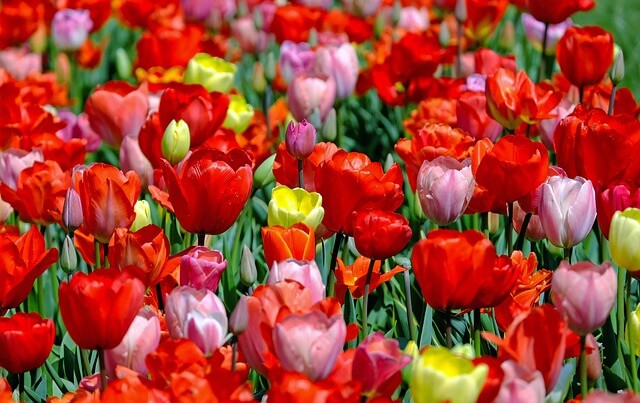 With a change of weather comes a change of clothes. This season is no exception. Spring is one of my favorite seasons and not only because it starts to warm up, but also because I get to try out flowy dresses. Not only is it a renewal of things, but we also see a return of the things we love. That's spring 2017 is all about. Though I did see a lot of new trends, there were a lot of old goodies that are returning.
Bold stripes
This one is one of my favorite trends this season (and not just because I have an excuse to add even MORE stripes to my closet). I love how we're seeing, not just black and white stripes, but also different colors. Since, you do want to not distract too much from the pattern, I would recommend to style a striped shirt with a simple jean skirt or a simple striped shirt dress with some small accessories.
Pink & Red
Have you ever heard of the rule that says you should never mix pink and red together? Well though it out the window! This season is about throwing the rules out and wearing what you like. The best way to keep these two colors youthful, I recommend wearing a pink pleated skirt with a very light red top.
Patches on Jeans
This is a trend that I've seen prior, but I think it's taking on full force this year. The best part is you don't have to buy a jacket or a new pair of jeans with patches already on them. You can customize them with whatever patches and prints you like and put them on a pair of jeans you already own. This is something I would wear on those days when I have no idea what to wear or I'm in a rush to get out of the house. I would just sport this as a simple jeans and t-shirt look.
Ruffles
I'll have to admit, ruffles aren't always the easiest thing to style, but when done right you can turn heads. I recommend wearing ruffled sleeves with a pair of cropped jeans or a ruffled skirt with a simple button down shirt.
The Trench coat
The beginning of spring is always somewhat chilly and rainy. The trench coat is a simple way to look simple and put together. For a more classic look, try a pencil skirt with a light sweater.
Sophia
Sophia is the owner and writer of her fashion blog So's Adventure Stills. Her insight for fashion comes from Montreal, Canada.